Swansong Band Instrument Repair
We are a full service shop, set up to do woodwind and brass play conditions and minor repairs.
We have
a dent machine

chemical cleaning vats

small buffing and lacquer stations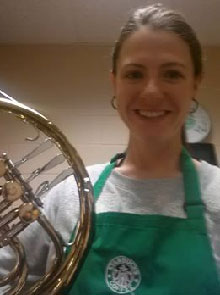 Angie Swanson attended The University of Northern Colorado for her undergrad in music education, then moved on to Minnesota State College Southeast Technical Institute to get a diploma in band instrument repair. Graduating with honors, she also wrote an article for TechniCom, the main publication for NAPBIRT (National Association for Professional Band Instrument Repair Technicians), of which she is a member. In addition, she apprenticed with a NAPBIRT member for two years, worked in a play condition shop in CO for four years, and has had her own shop in WY for two years.
Angie understands what it's like to run a band program, with 7 years teaching middle school band in Grand Junction CO, and 2 years in elementary music and beginning band in Big Piney. Her husband, Travis, is the instrumental band instructor in the Big Piney, WY school system with 17 years' experience. Along with subbing, coaching, and volunteering in Big Piney, Angie also keeps up her trombone skills. She has played large tenor and bass trombone with the Grand Junction Symphony Orchestra, and small tenor with the Western Colorado Jazz Orchestra. Recently, she filled in with the Jazz Foundation of Jackson Hole.
Born and raised in Wyoming, Angie is excited to return to her roots and family. She loves backpacking, camping, hunting, and the Wyoming skies.